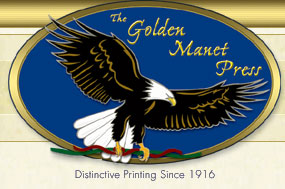 Golden Manet Press
86 Robertson Street
Quincy, Massachusetts 02169
Tel. 617.773.2423
Toll Free 1.877.773.2438
Email lance@gmpress.net
Printing Services
Brochures
Newsletters
Booklets
Menus

Placards
Posters
Bumper
Stickers
Flyers
Coupons
Ad Books
Post Cards
Tickets

Letterhead
Labels
Business
cards
NCR Forms
And so much MORE.

Welcome!
The Golden Manet Press, founded in 1916, specializes in printed communication, using the latest in high grade equipment, modern technology and exceptional people. We utilize all these resources to meet our customer needs and enable our customers to reach their goals.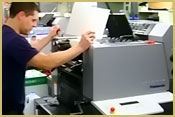 We provide our customers with a higher standard of service and premium quality printing, on time and at competitive prices—we seek customer satisfaction by meeting and exceeding our customer's expectations—we listen, offer solutions and deliver what we promise.
Located in Quincy, Massachusetts we service the greater Boston area.
You will enjoy doing business with Golden Manet Press.